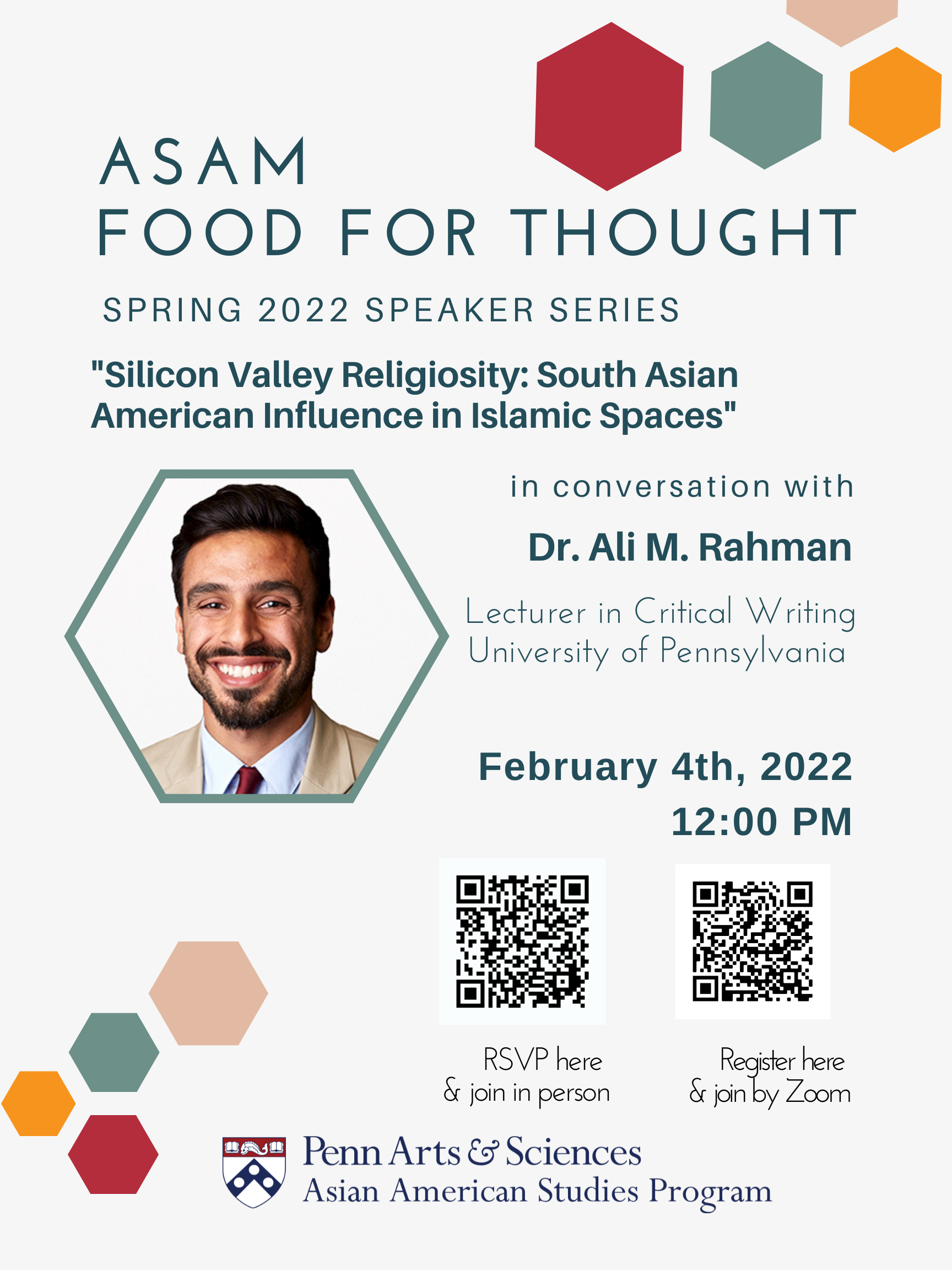 Please join us for the Food for Thought Speaker Series in conversation with Dr. Ali M. Rahman, Lecturer in Critical Writing at Penn.
Talk title: "Silicon Valley Religiosity: South Asian American Influence in Islamic Spaces"
From access to the printing press to the digitization of scripture and scholarly discourse, media technology has brought about paradigm shifting changes to Islamic tradition throughout its recent history. With more and more Islamic organizations competing for their share of the virtual congregation, certain theological orientations have coopted the idea of what Islam is in the eyes of many Muslims and non-Muslims alike. In this informal discussion, Dr. Ali Rahman will share thoughts from his current book project on how digital technology has changed the way Muslims conceive of and interact with religious authority, specifically how South Asian American Muslims have come to dominate Islamic spaces on the Internet through tech-savvy rhetorical strategies.
Dr. Ali M. Rahman is a Lecturer in the Critical Writing Program at the University of Pennsylvania. While completing his Ph.D. at UC Santa Barbara focusing on digital rhetoric and composition with an emphasis in writing studies, Ali reviewed and edited manuscripts for multiple academic journals, ran writing workshops in partnership with various centers on campus, collaborated with university administrators to implement career-oriented programming for graduate students, and helped facilitate faculty grant writing workshops. Ali also earned his MFA in creative writing at Sarah Lawrence College with an added focus on nonfiction while working for New York Public Radio and writing content for their website. He has taught both professional and creative writing in a variety of capacities including in the Middle East with refugee populations, the New York prison system, independent K-12 and boarding schools, and a large public university. His research focuses on digital writing, rhetoric, pedagogy, and education. He is currently working on a book exploring Islamic authority in online spaces and how Muslim Americans navigate their search for knowledge in a neoliberal age.
Masks are required per University and City guidelines except when outside and socially distanced. Everyone must register on Penn Open Pass and sign in at the event per university regulations. 
Free boxed lunch will be available to take away. The capacity of the room is 40 people; please RSVP here in advance or join us by Zoom here!