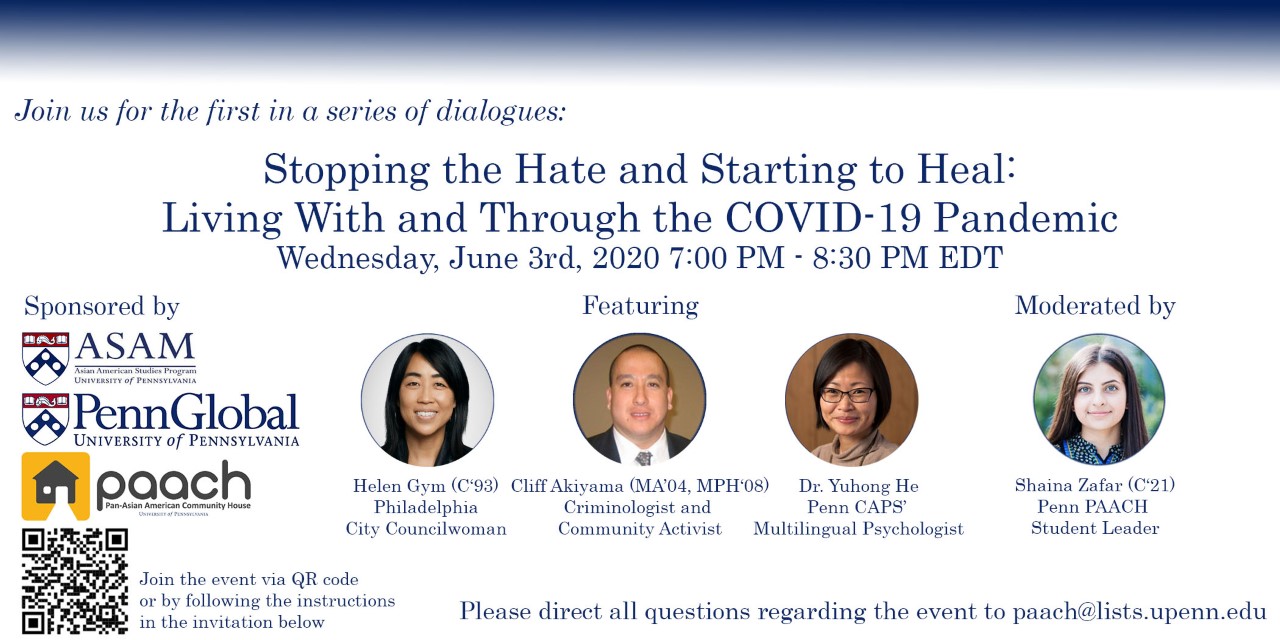 The COVID-19 pandemic has witnessed a surge in incidents of bias, discrimination, violence and hate directed against people of Asian backgrounds.
This event, the first in a discussion series sponsored by the University of Pennsylvania Task Force on Providing Support to Asian and Asian-American Students and Scholars, the Penn Pan-Asian-American Community House (PAACH), and the Program on Asian-American Studies (ASAM), will feature two distinguished Penn alumni, City Councilmember Helen Gym and criminologist and community activist Cliff Akiyama, as well as Penn CAPS' Multilingual Psychologist Yuhong He.
Cliff will provide some historical background and context for the challenges that Philadelphia's Asian and Asian-American communities have faced during the pandemic, Councilmember Gym will discuss the city of Philadelphia's response, and Yuhong will describe the impact on Penn's student community. The dialogue and subsequent Q&A will be moderated by Penn PAACH Student Leader Shaina Zafar (C'21.)
Wednesday, June 3, 7:00 PM - 8:30 PM EDT

Below are instructions for joining our BlueJeans event, including web browser, mobile device, and phone options:
1) Web Browser
    a) Domestic: https://primetime.bluejeans.com/a2m/live-event/jewxzcwf 
    b) International: https://www.bluejeans.com/numbers/primetime-attendees/event?id=jewxzcwf
2) Mobile Device
    a) Open this link: https://primetime.bluejeans.com/a2m/live-event/jewxzcwf 
    b) Download the BlueJeans app if you don't have it already
    c) Enter event ID: jewxzcwf
3) Phone
    Dial one of the following numbers, enter the participant PIN followed by # to confirm:
    +1 (415) 466-7000 (US)
    PIN 8341311 #
    +1 (760) 699-0393 (US)
    PIN 3609490263 #

We welcome you to share this invitation with colleagues, family, and friends, and we look forward to having you join us.


Please direct any questions regarding the event, including disability- and access-related queries, to PAACH at paach@lists.upenn.edu
Panelist Bios
Councilmember At-Large Helen Gym, Philadelphia, PA
Seated in 2016, Councilmember Helen Gym is a longtime education and community organizer and is the first Asian American woman elected to the Philadelphia City Council. As chair of Council's Children and Youth Committee, she has led a bold human rights agenda through City Council focused on education, housing, healthcare and labor and civil rights expansion. In her first term, she helped end the 17-year state takeover of the Philadelphia school system, established the first local school board in 20 years, restored nurses and counselors back to every public school, successfully passed a Fair Workweek law guaranteeing advance notice of schedules for 130,000 workers, and won millions of dollars to support homeless youth and expand renter protections. Since the COVID-19 pandemic hit the city, Councilmember Gym has led the effort to prioritize housing (including winning a statewide moratorium on all evictions), expand protections for essential workers, address online schooling and childcare supports, and protect immigrants and other communities left out of federal response efforts. Councilmember Gym is Vice Chair of Local Progress, a network of progressive municipal leaders where she has helped lead national efforts around Sanctuary Cities and progressive public education policies.
Cliff Akiyama, MA, MPH, FAAFS, Philadelphia, PA
Cliff Akiyama is the Principle and Founder of Akiyama and Associates, LLC, a forensic consulting firm providing consulting, training, research, and expert witness testimony in the areas of youth gang violence, community-based violence prevention, sexual violence, victimology, hate crimes, and other violence related crimes. He is also Pediatric Behavioral Specialist at Progression Behavioral Health Services, providing behavioral therapy to youth in crisis and at risk. He is also a Certified Gang Specialist by the Virginia Gang Investigators Association and a Certified Gang Professional by the East Coast Gang Investigators Association. Mr. Akiyama was also promoted to Fellow by the Board of Directors of the American Academy of Forensic Sciences (AAFS) for his superior contributions to the forensic sciences. He is also very active in the community as he is a former member of the Board of Directors and is a Certified Sexual Assault Counselor for Women Organized Against Rape (WOAR), Philadelphia's rape crisis center. He is additionally the past president and current board member of the Philadelphia Chapter of the Japanese American Citizens League (JACL), the nation's largest and oldest Asian American civil rights organization. Mr. Akiyama was recently reappointed by Mayor Jim Kenney of the City of Philadelphia to serve as one of 25 Commissioners on the Mayor's Commission on Asian American Affairs. He is also a board member of the Anti-Violence Partnership of Philadelphia (AVP). AVP is the only organization in Philadelphia whose mission is to reduce the entire cycle of violence by providing intervention, prevention, and support services. Nationally, Mr. Akiyama has served on the Board of Directors of the Congressional Award Foundation in Washington, D.C where he also received the Gold Congressional Award in 1996. Mr. Akiyama received his BA in Philosophy from the University of Virginia, his MA in Criminology and MPH from the University of Pennsylvania.
Yuhong He, Ph.D., University of Pennsylvania
Dr. Yuhong He is a licensed psychologist in Pennsylvania and currently works at the University of Pennsylvania's Counseling and Psychological Services (CAPS) as an International Specialist and a Staff Psychologist. She conducts career counseling, individual counseling/psychotherapy, group therapy, and crisis intervention for undergraduate, graduate and professional students. She also provides supervision and training to postdoctoral fellows, doctoral interns, and externs. In addition, she leads outreach and prevention programs for international students and coordinates career services at CAPS. Dr. He is specialized in mental health concerns of international and Asian American students in higher education. She is passionate about working with individuals and groups with marginalized identities and social justice advocacy. She provides multilingual counseling, workshops, and consultation in English, Mandarin, and Cantonese. Dr. He serves on several committees at Penn and of professional organizations such as the Society of Counseling Psychology of American Psychological Association. She is a founding and lifetime member of the Association of Chinese Helping Professionals and Psychologists-International. Her research areas include international students' and immigrants' mental health, coping, and career development.