APAHW is the University of Pennsylvania's week-long celebration of Asian Pacific-Islander American (APIA) heritage and culture. Every year, we bring together speakers, faculty, student leaders, and hundreds of attendees across a week of events ranging from our Extravaganza kickoff to dinner with Penn Asian American Studies department faculty and Big Asian, our annual charity talent show featuring students from our vibrant APIA community.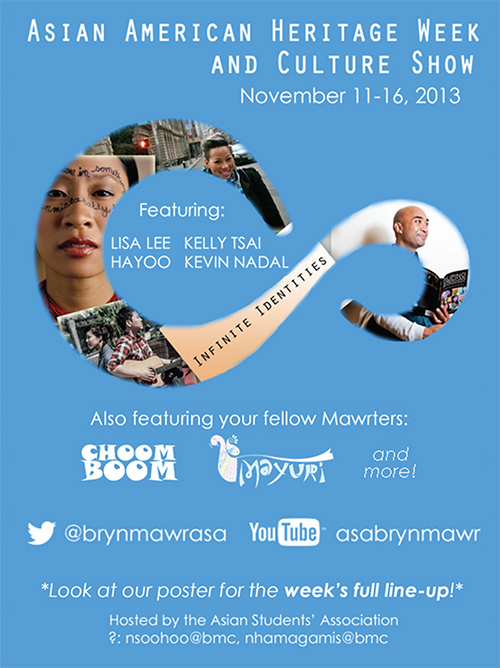 Asian American Heritage Week will be held Nov. 11-16, ending with a Culture Show  in Thomas Great Hall on Nov. 16. Other events include:
Keynote Speaker: Lisa Lee
Monday, Nov. 11, at 7 p.m. in Rhoads Dining Hall.
Diversity project manager at Facebook and cofounder of community forum ThickDumplinSkin.com.
"LGBTQ People of Color:" panel discussion with Kevin Nadal
Tuesday, Nov. 12, at 6 p.m. in Gateway Conference Room.
Filipino-American psychologist and author of That's So Gay!
Asian American Alumnae and Faculty Career Panel.
Wednesday, Nov. 13, at 3 p.m. in Gateway Conference Room.
Moderated by Director of Diversity, Social Justice, and Inclusion Stephanie Nixon.
Asian YouTuber/K-Pop Night.
Thursday, Nov. 14, at 8 p.m. in Dalton 200.
Discussion, screening, and snacks.
Asian American Mental Health Workshop
Friday, Nov. 15, at 10 a.m. in Quita Woodward Room.
Workshop features Shu-wen Wang, Haverford's psychology professor and clinical psychologist.
ASA Culture Show
Saturday, Nov. 16, at 7 p.m. in Thomas Great Hall.
Doors open at 6:30 p.m.
Heritage Week is sponsored by Asian Students Association, SGA, Special Events Funding, Alliance of Multicultural Organizations, Barkada, and the Gender and Sexuality, Child and Family Studies, and Psychology departments.
https://www.apahw.com/