Project "The Third Space: Unfurling Diasporic Arts of South Asia"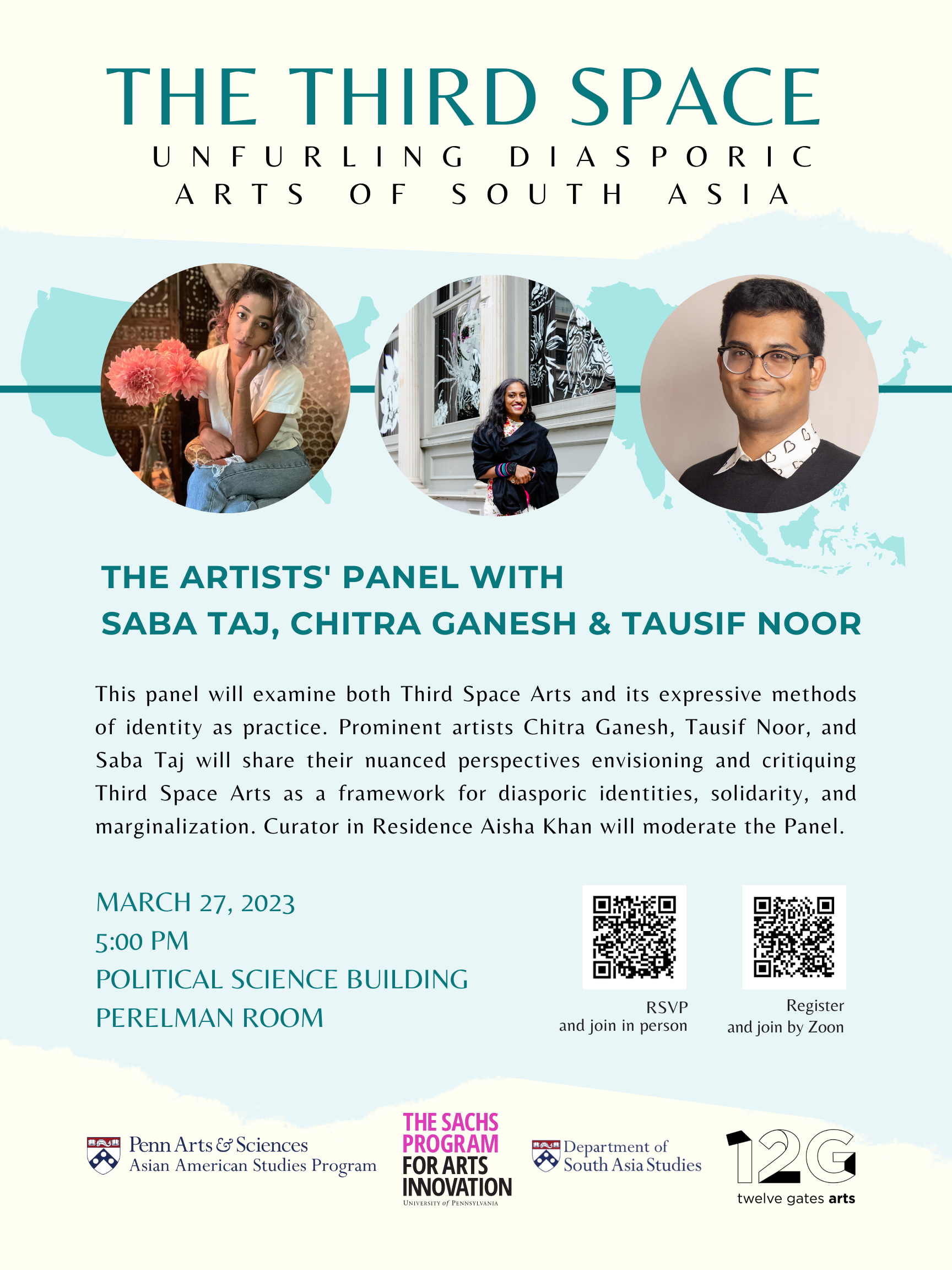 The Third Space: Unfurling Diasporic Arts of South Asia presents: The Artists Panel with Saba Taj, Chitra Ganesh, and Tausif Noor.
This panel will examine both Third Space Arts and its expressive methods of identity as practice. Prominent artists Chitra Ganesh, Tausif Noor, and Saba Taj will share their nuanced perspectives envisioning and critiquing Third Space Arts as a framework for diasporic identities, solidarity, and marginalization. Curator in Residence Aisha Khan will moderate the Panel.
The Third Space is a program series that seeks to highlight Diasporic Arts of South Asia as a distinct, expansive, and emergent tradition within American contemporary art. This four-part series will combine artistic practice and scholarship to envision a cultural consciousness within the art industry that also acknowledges the diasporic artist, their transnational experience of identity, place, and time, as a primary grounding for the conception, aesthetics, and impact of their work. The Third Space presents an examination into American contemporary art, utilizing scholarship to unravel artistic expressions of the diaspora and transnational identity within the American socio-political landscape. 
The Third Space is funded by the Sachs Program for Arts Innovation and is a collaboration between Twelve Gates Arts (12G)  and The Asian American Studies Program at the University of Pennsylvania (ASAM). This project is a four-part program series curated by founder and Executive Director of 12G. Aisha's curation will build from the gallery's decade-long experience presenting diasporic artists of South Asia. In partnership with ASAM, this series presents an additional layer of interrogation into American Contemporary Art, utilizing scholarship to unravel artistic expressions of the diaspora and transnational identity within the American socio-political landscape. The series will take place at the University of Pennsylvania.
About the panelists:
Saba Taj is a visual artist based in Durham, NC. Inspired by beauty, queerness, and Islam, Taj engages with representation as a resilience practice. Their work includes mixed-media drawing, painting, and collage, as well as sewing and performance. Through these techniques, Taj explores the liminality of minoritized individuals as an embodiment of resistance, hope and possibility. Taj is the 2023 Brightwork Fellow at Anchorlight, 2019-2020 post-MFA Fellow for the Documentary Diversity Project at CDS, and 2017 Southern Constellations Fellow at Elsewhere Museum. They earned their MFA at the University of North Carolina at Chapel Hill, and their BA in Art Education at North Carolina Central University.
Chitra Ganesh is an lives and works in Brooklyn. For the past 20 years, Ganesh's drawing based practice has shed light on narrative representations of femininity, sexuality, and power typically absent from canons of literature and art. Ganesh's installations, comics, animation, sculpture, and mixed media works on paper often take historical and mythic texts as inspiration and points of departure to complicate received ideas of iconic female forms.
Tausif Noor is a critic, curator, and PhD student at the University of California, Berkeley. His criticism, interviews, and profiles of artists can be found in Artforum, frieze, The New York Times, Art in America, ArtAsiaPacific, BOMB, The Nation, The Poetry Project Newsletter, The New York Review of Books online, Jewish Currents, the Brooklyn Rail, the New Yorker online, and various other periodicals, and his essays have appeared in collected volumes published by Paper Monument and the India Habitat Center, as well as in artist catalogues for Alex Da Corte and Ficre Ghebreyesus. He is a 2022 recipient of the Andy Warhol/Creative Capital Arts Writers Grant. Noor has organized various exhibitions, lecture series, and events in Philadelphia and Berkeley, including solo exhibitions of Shwarga Bhattacharjee at Twelve Gates Arts (2022) and Asif Mian at FJORD (2018). From 2014-15, he was a Fulbright-Nehru Fellow in India, where he worked at the Kochi Biennale and the Foundation for Indian Contemporary Art (FICA). He has also worked at the Imperial War Museum in London, the Whitney Museum of American Art in New York, and the Institute of Contemporary Art at the University of Pennsylvania, where he was the Spiegel-Wilks Curatorial Fellow from 2017-2020.