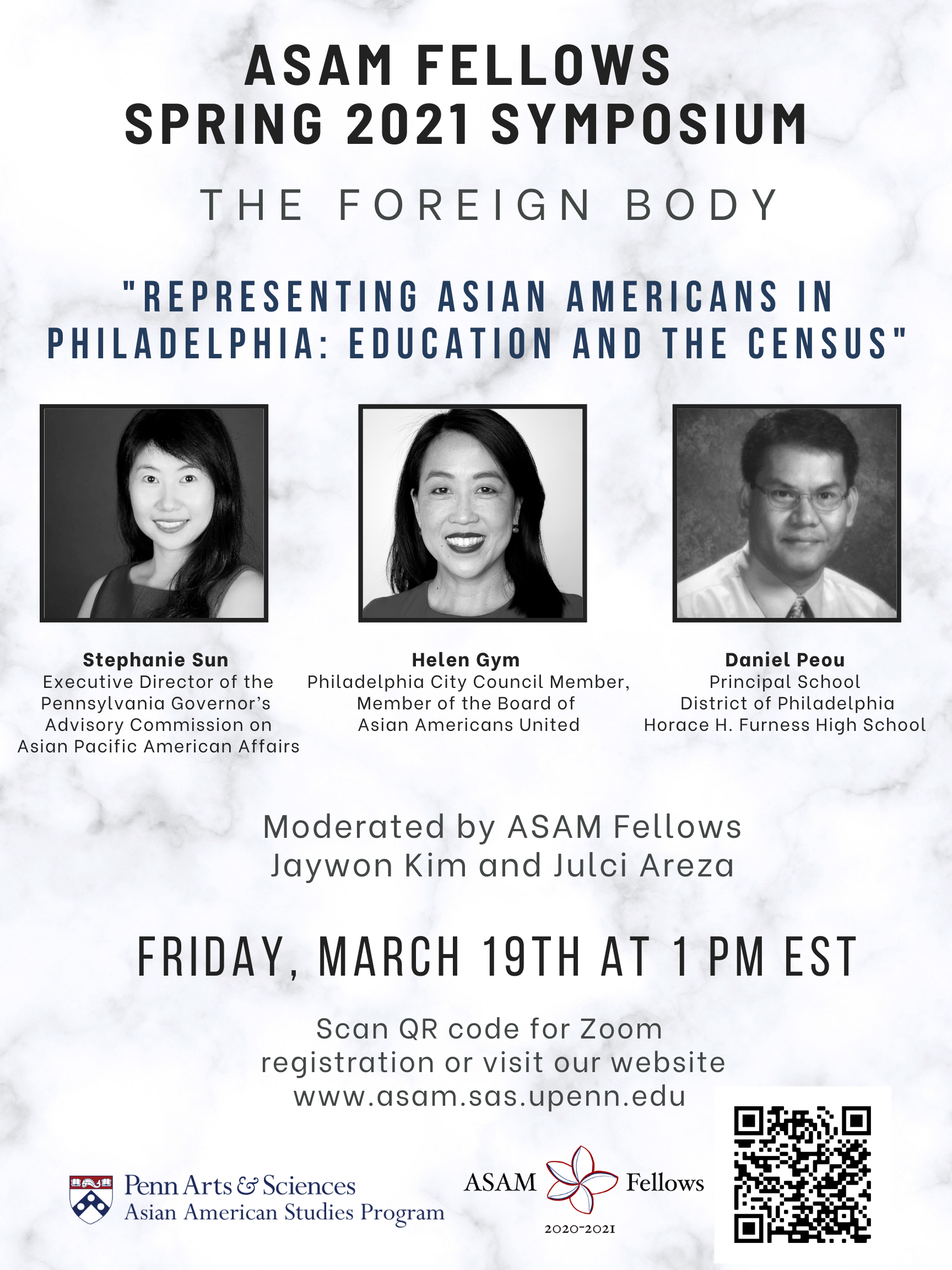 ASAM Fellows Spring Symposium: The Foreign Body presents "Representing Asian Americans in Philadelphia: Education and the Census."
Speakers:
Dan Peou, is the Principal of Horace Howard Furness High school in South Philadelphia. He has worked for the School District of Philadelphia for 25 years. A longtime Philadelphia resident and educator, he has seen how important education and representation is for Asian American communities.
Stephanie Sun, appointed the Executive Director of the Pennsylvania Governor's Advisory Commission on Asian Pacific American Affairs (GACAPAA) in June, 2020. She had been serving as a Commissioner on GACAPAA beginning in April 2018. Prior to joining the Office of the Governor Tom Wolf, Sun served as the Associate Director of Partnerships, Philly Counts, for the City of Philadelphia, responsible for developing engagement strategies with diverse communities to promote participation in the 2020 U.S. Census. 
Councilmember Helen Gym, Seated in 2016, Councilmember Helen Gym is a longtime educator and community organizer and the  first Asian American woman elected to Philadelphia City Council. Before coming onto City Council, she  was one of the city's most visible organizers – helping to establish Philadelphia as a Sanctuary City,  fighting off a stadium and casino in Chinatown and leading a broad-based coalition to fight the state  takeover of the Philadelphia public schools. She led the protests of the Muslim ban at the airport and  has been a staunch advocate for ending inhumane detention and deportation practices against  immigrant communities. Since coming into office, she has led a human rights agenda rooted in housing,  education and racial and economic justice. She established a legal defense fund for renters facing  eviction and immigrant residents fighting deportation. She established groundbreaking legislation such  as the nation's first anti-retaliation law on health orders, mandatory advance scheduling for hospitality  and retail workers, and the city's first civil Gideon effort: a law guaranteeing right to counsel in landlord tenant court for low-income residents. She is co- chair of Local Progress, a national network of progressive local electeds where she leads immigrant rights and economic justice efforts.group.
Moderators:
Jaywon Kim, is a senior majoring in Philosophy, Politics, and Economics with a concentration in globalization. After learning about the Census in her ASAM 190 class and volunteering with Philly Counts 2020, she plans to investigate the success of various community efforts to count the AAPI population in the 2020 Census. On campus, she is also involved in the PPE Undergraduate Advisory Board, the Penn Association for Gender Equity, and the Political Coalition. In her free time, you might find her reading Hercule Poirot mysteries, baking eclairs, or bragging about Arizona sunsets. 
Julci Areza is a senior at the University of Pennsylvania studying Health & Societies and concentrating in Race, Gender, and Health. She is an MPH sub-matriculant with particular interests in Asian American health, Southeast Asian organizing and activism, and collective, trauma-informed approaches to mental health. Currently, Julci campaigns for healthy public schools with VietLead, a Vietnamese community-based organization in Philly. On campus, she is involved with UAEM Penn, Service Link, Seven|Eight, Spice Collective, and Penn Sangam.
The ASAM Program is hosting a spring colloquium with the undergraduate recipients of this year's ASAM Fellowship: Claire Nguyen, Julci Areza, Tiffany Tieu, Erin Jin Mei O'Malley, Jaywon Kim, and Neelu Paleti. Each Fellow conducted and presented independent research projects that related to Asian American Studies, with a recurring theme of "The Foreign Body." The Fellows will engage with scholars, professionals, and activists from around the country to examine how the state and greater geopolitical forces have politicized and controlled the foreign body: the Asian American body. These conversations will investigate how Asian American bodies are featured in mental and maternal health, science fiction, decarceration and deportation, and political engagement. Together, their works question the meaning of foreign bodies as they exist in the US and what this signifies for Asian Americans. 
Please register here!