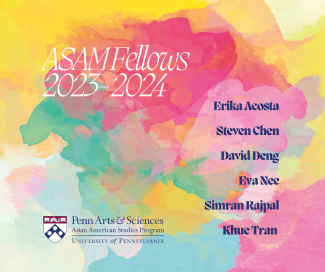 The Asian American Studies Program is pleased to announce the ASAM Fellowship recipients for the academic year 2023-2024.
Erika Acosta
Steven Chen
David Deng
Eva Nee
Simran Rajpal
Khue Tran
Congratulations on your dedication and drive for research in Asian American Studies!  
The ASAM Fellows Honors Program provides students with comprehensive academic training in archival research, methodology, and theory to enhance their critical thinking and writing skills. Along with a faculty advisor, students conduct original research to complete an independent honors project that strengthens their knowledge of Asian American studies, topics, and identities. The program provides an excellent opportunity to build one's resume while exploring personal interests and learning valuable skills and expertise for one's professional future.