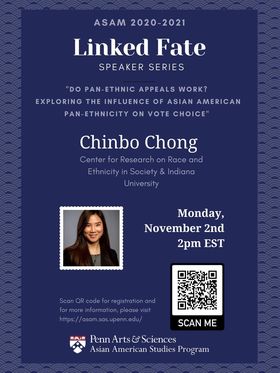 Please register here!
Talk by Chinbo Chong, Visiting Assistant Professor in the Department of Political Science at Indiana University.
Title: Do pan-ethnic appeals work? Exploring the influence of Asian American pan-ethnicity on vote choice.
Abstract:
Political scientists have long documented the ways in which racial group identities matter for political behavior. Yet few have compared the relative effectiveness of two different forms of identity, pan-ethnic and national origin, on political behavior. This presentation investigates the interplay of pan-ethnic (i.e., Asian American) and national origin identity (i.e., Chinese American) appeals among immigrant dominated populations in American politics. I make a novel argument that responsiveness to pan-ethnic identity appeals will be largely determined by levels of acculturation. In this presentation, students will learn about how pan-ethnicity informs Asian American political behavior and will be exposed to social science approaches for studying politics.
Biography:
Chinbo Chong is a Postdoctoral Fellow at the Center for Research on Race and Ethnicity in Society and a Visiting Assistant Professor in the Department of Political Science at Indiana University. She is a first-generation college student who grew up in South Korea, Alaska, Kansas, Washington, and California. She received her Ph.D. in Political Science from the University of Michigan, Ann Arbor (2019). Her main fields of study are in American politics, political behavior, and race and ethnic politics. She is working on her book manuscript titled Identity Appeals in the Age of Immigration. Her book project uses original survey experiments, large observational political surveys, and qualitative data, which speaks to the discussion about the formation of political identity, how this differs for Asian American and Latino voters, and its impact on mobilizing these two important American electorate. She has also examined how immigrant voters form their party identification, and the role of discrimination and xenophobic rhetoric on their political behavior and collective action.
Linked Fate Speaker Series 
The concept of linked fate, as political scientist Evelyn M. Simien defines, is "an acute sense of awareness (or recognition) that what happens to the group will also affect the individual." Although this concept originates in examining the political choices of African Americans, this series expands the concept based upon what we have witnessed so far in 2020. From the disproportionate impact of the coronavirus on minority communities to the new momentum of BLM, we recognize that the fate of AAPI communities is linked to other BIPOC communities. Through a series of speakers and discussions, Penn's Asian American Studies program will reflect upon our contemporary moment by examining earlier moments of multiracial solidarity and organizing to consider what avenues AAPI individuals might pursue today and in the future.
Please register in advance for this meeting.
After registering, you will receive a confirmation email containing information about joining the meeting.