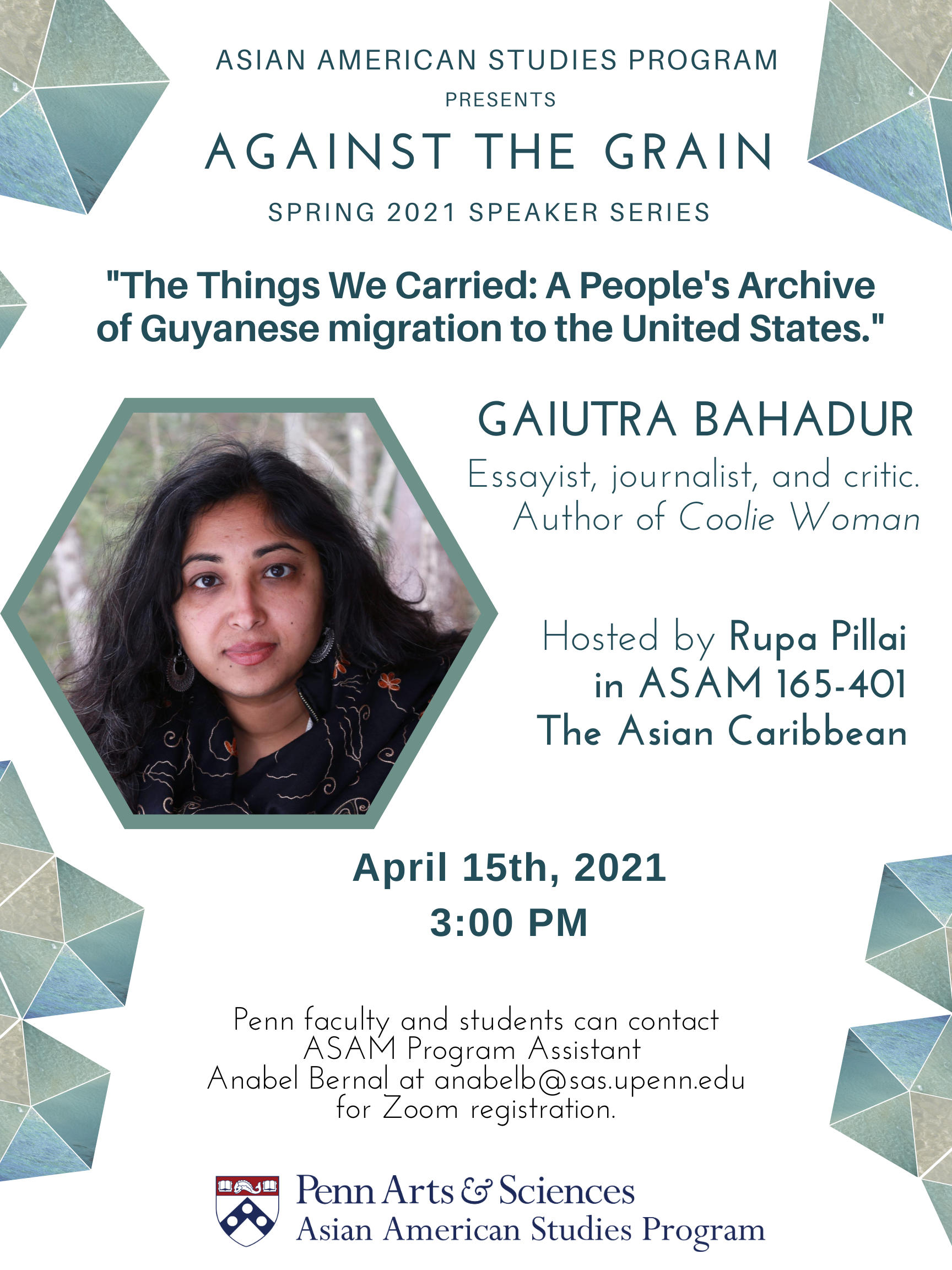 Asian American Studies Spring Speaker Series, "Against the Grain" presents:
"The Things We Carried: A People's Archive of Guyanese migration to the United States." By Gaiutra Bahadur, essayist, journalist, and critic.
Gaiutra Bahadur is an essayist, journalist, and critic who writes frequently about literature, history, memory, migration, and gender. Her book Coolie Woman, a personal history of indenture, was shortlisted in 2014 for the Orwell Prize, the British literary prize for artful political writing. A former daily newspaper reporter and Harvard Nieman Fellow, she is a regular contributor to The New York Times Book Review, The Nation, The New Republic, The New York Review of Books, and Dissent Magazine. She is a recipient of literary residencies at the MacDowell Artists Colony and the Rockefeller Foundation's Bellagio Center in Italy and is a two-time winner of the New Jersey State Council on the Arts Award for creative prose. She has also won research fellowships at the W.E.B. Du Bois Institute at Harvard, the Schomburg Center for Research in Black Culture at the New York Public Library, the Society of Authors in London, and the Eccles Centre for American Studies at the British Library. She currently teaches writing and journalism as an assistant professor in the Department of Arts, Culture and Media at Rutgers University in Newark. 
Gaiutra Bahadur discusses her approach to constructing an archival snapshot of Guyanese immigrants in the United States for the South Asian American Digital Archive (SAADA). Through oral histories, official records, ephemera, poetry, essays, and material memory, she strove both to create and to recreate the archive: as both record and story, both document and art. Her archive gestures toward a people's history of the great-grandchildren of Indian indenture, showing their presence in the United States long before Indo-Caribbeans are thought to have arrived here and hinting at early solidarities and relationships with the descendants of enslaved Africans. 
Hosted by Dr. Rupa Pillai, ASAM Senior lecturer in ASAM 165: The Asian Caribbean.