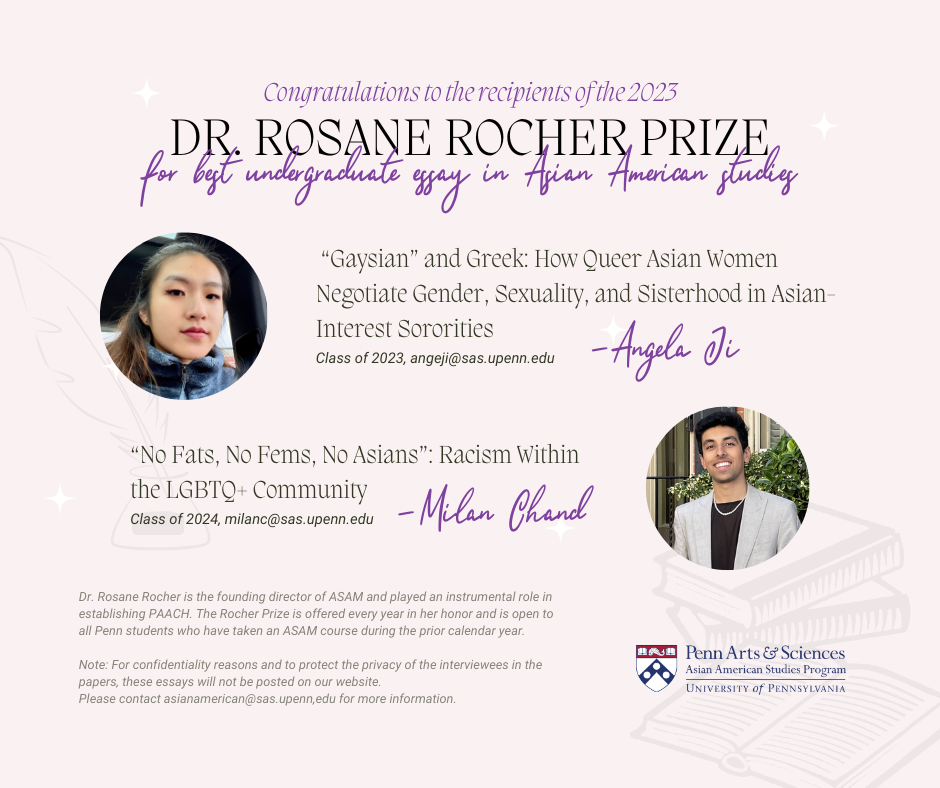 The ASAM Award Committee is thrilled to announce the winners of the Dr. Rosane Rocher Prize for Best Essay 2023. Congratulations Angela Ji and Milan Chand for their outstanding work in Asian American Studies!
"Gaysian" and Greek: How Queer Asian Women Negotiate Gender, Sexuality, and Sisterhood in Asian-Interest Sororities
By Angela Ji, C'23.  Final Paper for ASAM 215 Asian American Gender and Sexuality (Spring 2022) Taught by Dr. Rupa Pillai
"No Fats, No Fems, No Asians": Racism Within the LGBTQ+ Community" By Milan Chand C'24. Paper for American Race: A Philadelphia Story (SNF Paideia Program Course) Taught by Dr. Fariha Khan and Fernando Chang-Muy.
Angela Ji is a senior graduating with a major in English and minors in Asian American Studies and Economics. Her academic interests and creative writing examine Asian American queerness, labor, and girlhood. Outside of class, she enjoys long-distance running, drinking tea, and exploring the dance music scene.
Milan Chand is a junior (C'24) at the University of Pennsylvania majoring in Neuroscience and minoring in Asian American Studies, Urban Studies, and Chemistry. Originally from Newtown, Connecticut, Milan graduated from Newtown High School in 2020. He is very passionate about mental health awareness, LGBTQ+ rights, as well as social justice work around gun violence prevention. This has led him to work in many spaces from a clinical research lab to interning at various mental health organizations (The Avielle Foundation, Jordan Porco Foundation) to being a volunteer for many community based organizations (Sandy Hook Promise, March for Our Lives). Milan is currently president of Active Minds at Penn, a peer practitioner at Restorative Practices @ Penn, as well as an intern at the Center for Health Equity Advancement at Penn Medicine.