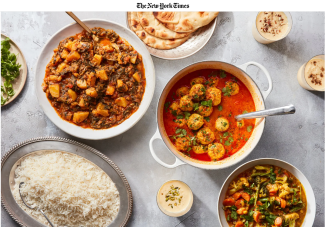 5 Festive Dishes for an Easy Eid Lunch: Streamlining preparations for this celebration makes gathering in community even more meaningful. 
By Zainab Shah on April 7, 2023. Food -New York Times.
 "Circumstances often dictate the preparations. "People don't always have the luxury of taking time off," Fariha Khan, ‌co-director of the Asian American Studies program at the University of Pennsylvania, said. Cooks, traditionally women, no longer have time to prepare everything from scratch, especially if they're working outside the home, and now supplement a holiday meal with a few items from the local Desi restaurant.

"For our mothers' or nanis' generations, it would be unheard of to order anything from outside," Dr. Khan said. But doing so means more time to celebrate. This Eid can be a chance to let go of things that no longer serve, and to reflect and be joyful by preparing for the holiday with ease."