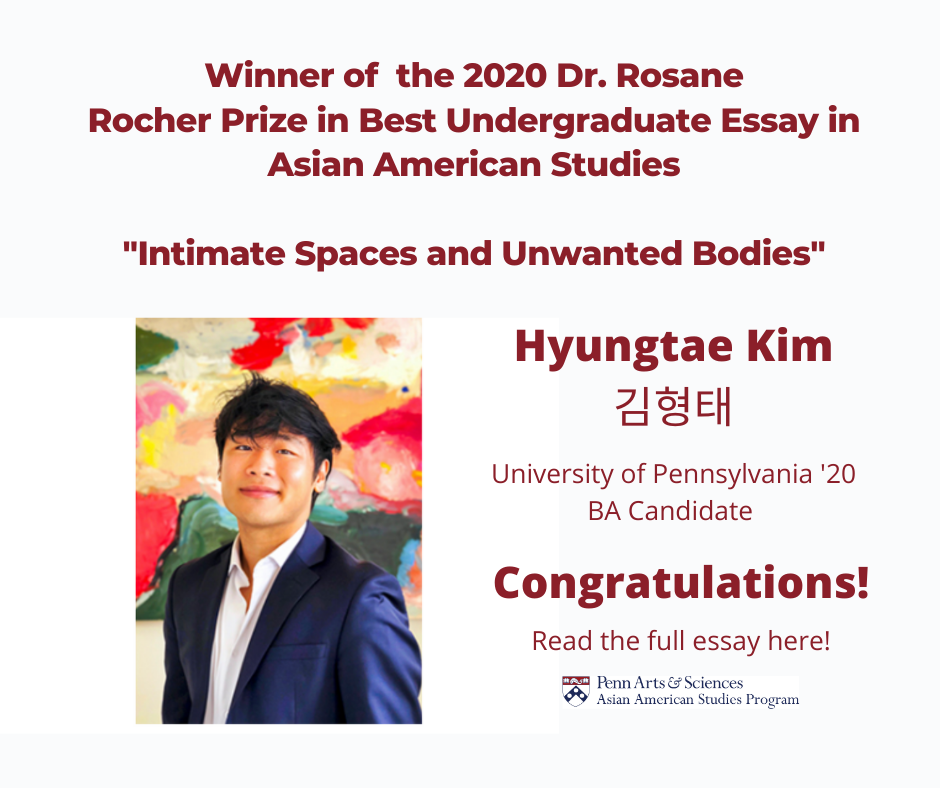 The Asian American Studies Program is proud to announce the recipient of the 2020 Dr. Rosane Rocher Prize in Best Undergraduate Essay in Asian American Studies, is Hyungtae Kim '20 for his essay, "Intimate Spaces and Unwanted Bodies". This year we received numerous exceptional essays and the decision was very difficult.  Hyungtae's work exemplifies rigorous scholarship and a nuanced understanding of the complexities of race and history on the United States.  Read the full essay here!
 More about Hyungtae:
"A  lover of coffee. A friend to mornings. And an enemy of progress. Hyungtae is a senior in the College of Arts and Sciences majoring in US History with a focus on black feminism and yellow ontologies. Today, he was moved by The Tree (Martin, 1964), Smelling the Wind (Lorde), and the color green. Tomorrow, he will be working at Collective Climb, a nonprofit he co-founded through the 2020 President's Engagement Prize.
Beyond this, his current projects include a critical fabulation on the queer affectivies of Chinese indentured servants in Cuba. Its form: a series of modular epistolaries between two fictive lovers. Its object: redress".
The Dr. Rosane Rocher Prize for Best Undergraduate Essay in Asian American Studies is awarded annually in honor of Dr. Rosane Rocher, the first Director of Asian American Studies at Penn. The ASAM program invites students and instructors to submit academic papers within any field of Asian American Studies.