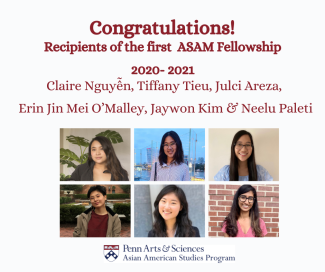 We extend our warmest congratulations to Jaywon Kim, Claire Nguyễn, Julci Areza, Tiffany Tieu, Erin Jin Mei O'Malley for winning the inaugural ASAM Fellowship for the academic year 2020- 21! 
Claire Nguyễn "No Mercy: Southeast Asian American Refugee Deportations and Voices of Community Defense"
Claire is a proud second generation Vietnamese American, rooted in her identity as a daughter of refugees and empowered by her Asian American Studies courses. A rising junior studying History with minors in Asian American Studies and English, she seeks to bring knowledge and power to her greater community and immerses herself in several Southeast Asian spaces including VietLead's Civic Empowerment Team, UC Berkeley's Southeast Asian Student Coalition, and Penn Vietnamese Students' Association. On campus, she is also a member of the ASAM Undergraduate Advisory Board and will be an APALI facilitator for the 2020-2021 school year. Claire enjoys watercolor painting, DIY hot pot, and baking cookies for her friends.
Julci Areza "You Are What You Eat": Race, Diet, and Nutrition in the Asian American Food Marketplace"
Julci is a rising senior studying Health & Societies and concentrating in Race, Gender and Health. She is interested in piecing together knowledge and frameworks from different fields to understand how individual and population health is impacted by a variety of social and political factors. In particular, she is interested in the politics of food production and dietary guidelines, the history of diet and colonialism, and socioeconomic disparities in food access and nutritional information. Her project aims to unpack how nutritionists and public health officials have described, judged, and policed Asian American foods and food businesses. Ultimately, she wants to shed light on how Asian American restaurants have responded to these concerns and are able to negotiate agency in the food marketplace.
Tiffany Tieu "The Model Minority Myth, Academic Stress, and Mental Health Help-Seeking Behaviors"
Tiffany is a rising junior from Cheltenham, Pennsylvania studying psychology. She holds research positions at Penn Medicine and the Positive Psychology Center. As a student ambassador, Tiffany gives weekly presentations about the College of Arts and Sciences to prospective students. She is also involved in the Peer Advising Program, West Philadelphia Tutoring Project, and Penn Undergraduate Psychology Society. She is interested in minority mental health and improving the lives of those struggling with mental illness. Tiffany has conducted research on mental health in the Asian community and hopes to build upon her work through the ASAM Fellows Program. 
Erin Jin Mei O'Malley "The Asian/Alien in American Legal Policy and Science Fiction"
Erin is a junior studying Comparative Literature, Gender, Sexuality, and Women's Studies and Asian American Studies. They are a Mellon Mays Fellow and the poetry editor of the first anthology of API transmasculine writing (forthcoming 2021). They are also a member of the Asian American Studies Undergraduate Advisory Board and the Philadelphia Asian American Theatre Festival Selection Committee.  
Jaywon Kim  "Evaluating Efforts to Count Asian Americans in Census 2020" 
Jaywon is a senior majoring in Philosophy, Politics, and Economics with a concentration in globalization. After learning about the Census in her ASAM 190 class and volunteering with Philly Counts 2020, she plans to investigate the success of various community efforts to count the AAPI population in the 2020 Census. On campus, she is also involved in the PPE Undergraduate Advisory Board, the Penn Association for Gender Equity, and the Political Coalition. In her free time, you might find her reading Hercule Poirot mysteries, baking eclairs, or bragging about Arizona sunsets. 
Neelu Paleti "Modern Births?: An Ethnographic Study of Power, Choice, and Safety in Caesarean Deliveries in South India"
Neelu is a rising senior from Dublin, OH studying Health and Societies to pursue her interests in health policy and global health. At Penn, she serves as the Director of Operations of Service Link, and she is actively working with Universities Allied for Essential Medicines, Penn Healthcare Review, and the Center for Healthcare Innovation. Neelu is fascinated by the intersections of sociopolitical factors and health outcomes, and she hopes to further explore these connections through her research on the rising rates of c-section deliveries and the implications on agency, class, and power in South Indian and Asian American populations.