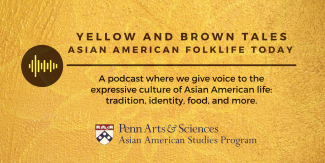 "Yellow and Brown Tales: Asian American Folklife Today"
 
Join folklorists Fariha Khan, Margaret Magat, Nancy Yan, and Juwen Zhang as they highlight the diverse narratives, practices, traditions, and customs of the fastest-growing population in the U.S.

Episode 4: "Dr. Herminia Meñez Coben, pioneer Filipina American folklorist"
Join Dr. Margaret Magat in conversation with Herminia Meñez Coben, the first Filipina American to receive a Ph.D. in Folklore and Folklife from University of Pennsylvania in 1973. Dr. Coben was also the first Filipina to teach Ethnic Studies and Folklore at California State University, Sonoma (1970 to 1985), teaching classes such as 'Native American Mythology', 'African American Folklore' as well as 'Asian American Folklore'. She went on to be the first Filipina American president of the California Folklore Society (now known as the Western States Folklore Society) and later taught 'Filipino Folklore and Society' at University of California, Los Angeles (1990-1991) before her retirement. In this episode, we will hear about her early graduate years in the Philippines, how she stumbled upon the field of folklore, her fieldwork among manongs (a Filipino term referring to elder males), and her birds' eye view of the historic Delano Grape Strike.

Listen the podcast here!
Find the podcast on Spotify