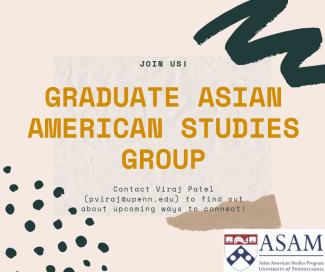 Are you a graduate student doing work with/for/about Asian American and Pacific Islander (AAPI) communities? We're restarting the Graduate Asian American Studies group as a space to build community among students, focus on collaboration and interdisciplinary connections, professional development and more. 
In the past, we have developed reading groups, spaces to share/get feedback on writing, to practice presentations before conferences, set up talks with faculty on conducting research, building mentorship relationships, and more. 
If you're interested in learning more, please email Viraj Patel at pviraj@upenn.edu (Graduate student in Higher Education at Penn GSE) and please share this announcement widely! We also welcome students from local universities to connect.