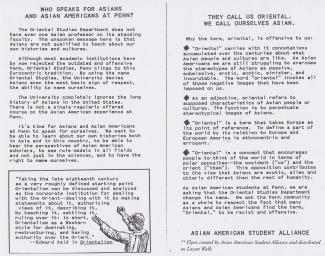 The 2012 - 2013 academic year marked the 15th anniversary of the Asian American Studies Program at Penn.  In March 2013 alumni and current students celebrated the foundations and future of the Program at a banquet at the Inn at Penn.  A video featuring key ASAM leaders and an Anniversary Publication commemorated the event.
A History of the Program
After student protests, the Asian American Student Alliance rallied Dean Hugo Sonnenschein in February of 1990 to discuss Asian Amer- ican Studies within the School of Arts and Sciences. Together, they began working to find outside consultants, organize a faculty commit- tee, and create an institutional framework. By April the Asian American Studies Committee was formed and included graduate students and faculty members. In the fall of 1991, the University allocated funds to bring in consultants. It was not until 1992 that the first Asian American Committee met with Dean Stevens, with authorization to raise funds for an Asian American chair, and discussion began to form a visiting committee of several leading scholars. This new advisory committee led by Rosanne Rocher, consisted of Jean Wu, Robert Lee (replaced later by Peter Kiang), Gary Okihiro, and Sucheta Mazumdar. In December they submitted a report emphasizing that an Asian American Studies program would enable Penn to become a leader in the field while also connecting the University with Philadelphia's com- munities. They also recommended the creation of a minor, and that three faculty (one senior, two tenure-track) be hired.
In the 1996-1997 Academic Year, ASAM was officially designated as a program with a minor. Rosane Rocher served as its director until 2003. From 2003-2009, Grace Kao served as director. Under her term, ASAM gained office space in the McNeil Building as well as a full- time associate director. The first associate director was Ajay Nair.
In Spring 2007, actor Kal Penn taught a course (cross-listed with Cinema Studies and Sociology) titled, "Asian Americans in the Media." He brought in actors and writers such as Margaret Cho and Peter Jacobson, as well as directors and writers such as Jon Hurwitz and Hayden Schlossberg. In the same semester, SAS planned to cut ASAM's budget such that it would lose its only full-time staff person. Students fought this plan and helped to save our program from budget cuts. This was celebrated with a rally on College Green attended by President Amy Gutmann, and Deans Rebecca Bushnell and Dennis DeTurck.
These documents offer a glimpse into student activist demand and faculty response. Most significantly, they reflect how the Asian American Studies Program grew out of a long struggle and partnership among key scholars, University administration, and Penn students. 
Please see a link to the documentary via youtube: