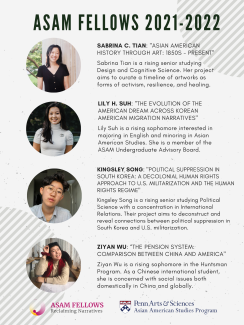 The ASAM Program will host a Fall Colloquium and Spring Speaker Series with the 2021 ASAM Fellowship recipients: Kingsley Song, Lily Suh, Sabrina Tian, and Ziyan Wu.
Each Fellow conducted independent research projects on topics that ranged from Korean political history, the Chinese pension system, the American Dream, and contemporary art about migration under the theme of "Reclaiming Narratives." Their research redefines conversations in the Asian American space by exploring the power dynamics that shape the marginalized narratives that the works are uplifting, shifting the focus in academia away from currently dominating viewpoints that obscure histories of racism, colonialism, and erasure. These projects weave together the theme of "Reclaiming Narratives'" and open these perspectives to the community by initiating interdisciplinary conversations across Asian Americans, Asian Studies, and the fellows' respective disciplines.

The 2021 ASAM Fellowship logo consists of open quotation marks to symbolize the conversations their research projects will initiate. Visually, these quotation marks fade in color and swirl into an ellipse to resemble the transparency and honesty of the dialogue, and continued discussion after the Fellowship ends.
Lily is researching migration narratives from Korea to the United States and tracing the portrayal of the American Dream in literature in order to demonstrate how white society projects the American Dream in order to lure immigrants into America with the hope of upward mobility. However, this project reveals how the American Dream unravels throughout generations of immigrants who are unable to achieve this dream in reality.
Sabrina is researching contemporary Asian American art created within the 20th century to visualize the emotions and experience of migration narratives from Asia to the U.S., and shift the power dynamic in defining American history and art to tell the narratives of AAPI communities from everyday individuals within.
Kingsley is researching Korea's political history, People's Movements, and state repression as it's linked to the United States to reflect on the relationship between the two countries and what implications it has for international human rights, democracy, and self-determination.
Ziyan is researching the Chinese pension system and its difference from the American one. She anticipates exploring if there is gender inequality within the pension system and how the retiring age affects the amount of pension.
Learn more about the fellows here!
Check the upcoming talks here!