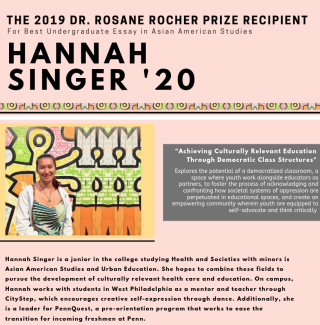 The 2019 Dr. Rosane Rocher Prize for Best Undergraduate Essay in Asian American Studies Recipient is Hannah Singer '20
After reviewing a large volume of excellent essays, the ASAM Faculty Steering Committee is proud to announce this year's recipient of the Dr. Rosane Rocher Prize, Hannah Singer '20. Her essay, "Achieving Culturally Relevant Education Through Democratic Class Structures",  explores the potential of a democratized classroom, a space where youth work alongside educators as partners, to foster the process of acknowledging and confronting how societal systems of oppression are perpetuated in educational spaces, and create an empowering community wherein youth are equipped to self-advocate, and think critically. Read the full essay below!
Hannah Singer '20, is is a junior in the college studying Health and Societies with minors is Asian American Studies and Urban Education. She hopes to combine these fields to pursue the development of culturally relevant health care and education. On campus, Hannah works with students in West Philadelphia as a mentor and teacher through CityStep, which encourages creative self-expression through dance. Additionally, she is a leader for PennQuest, a pre-orientation program that works to ease the transition for incoming freshmen at Penn.
The Dr. Rosane Rocher Prize for Best Undergraduate Essay in Asian American Studies is awarded annually in honor of Dr. Rosane Rocher, the first Director of Asian American Studies at Penn. The ASAM program invites students and instructors to submit academic papers within any field of Asian American Studies.
File